Sur ce site il y a plein de très belles images de
batteries et tambours rares et anciens
.Mais elles sont un peu dispersées dans les différentes rubriques...
Je vous propose avec cette nouvelle rubrique dans la section
VINTAGE
, sans faire concurrence à la fameuse rubrique de présentation de vos kits, de rassembler quelques belles images et textes glanés de ci-delà... Notamment sur des sites marchands dont les liens et images disparaissent trop vite...
La drummerie c'est aussi le musée virtuel de tous les collectionneurs fauchés !
Voici déjà un petit florilège en vidéo avec ce lien...
et ici des très belles batteries :
http://www.ladrummerie.com/viewtopic.ph ... sc&start=0
Pour ne pas tout mélanger !!! Je vous propose de mettre ici des images et infos sur les instruments anciens. Du XVII ème siècle à 1950 environ...
Vavou à repéré cette magnifique Caisse claire vendue la modique somme de 6995 us $ sur Ebay !!!!
C'est une DuAll SLINGERLAND - 1934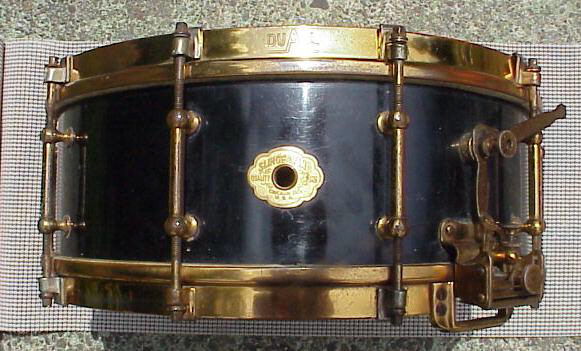 "In 1934, Slingerland was the third largest drum maker and poised for a run to the top..within 4 years, they would be number 1, thanks to the combined efforts of America's Ace Drummer Man, Gene Krupa, and the marketing genius of H.H. Slingerland. H.H. took a solid shell snare drum that he had earlier called the Artist, then the Professional, then the Broadcaster and made it the Radio King, in 1936 and the sales started to skyrocket.The rest is drumming history.

In 1934, two years before the Radio King, H.H. brought out his then most expensive snare drum, a full 40 per cent more than his original Black Beauty.

Slingerland introduced the DuAll, a solid walnut or mahogany shelled 10 tube lug snare drum with an impressively different throw off and buttplate, but it reminded Slingerland's arch rival, Bill Ludwig, too much of his own parallel strainer used on the Ludwig Super and Super Sensitive snare drums. At that point, Ludwig was part of Conn and Conn's lawyers got involved.

Slingerland ended the DuAll's run in the year of introduction, so we know this drum is from 1934.Slingerland promoted the Black Beauty, a black nickeled brass shell snare drum with gold lacquer on polished brass plated parts, called Artgold. A Black Beauty is a rare drum and sells for $10-15,0000. Most of them are pretty used looking.

In my opinion, a DuAll is a much rarer drum, and those that have surfaced have been plastic wrapped and tend to be a pearl and not a sparkle or solid. Since Slingerland sold their Artist series bass drum in black lacquer and Artgold and offered the Black Beauty snare drum with it to make a set. I would be willing to bet that the original owner of this drum had a matching black bass with Artgold trimmings.

Since 1934 is the year it was manufactured, and that was before tunable tom toms, I would venture the original owner played a snare, bass and some traps. He probably kept the snare after he stopped playing. The Artgold is in phenomenal shape and I think black is a rare color for this drum. It would have been most common in white marine pearl. Simply put, it was too expensive for most drummers."

Harry Cangany
Drum Historian for Modern Drummer
Author of The Great American Drums
September, 2007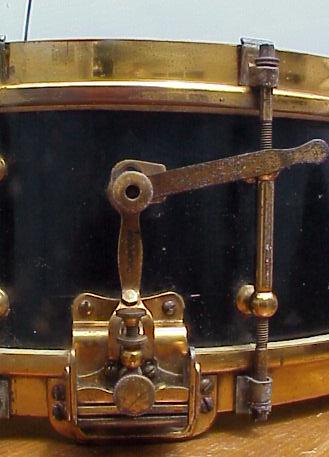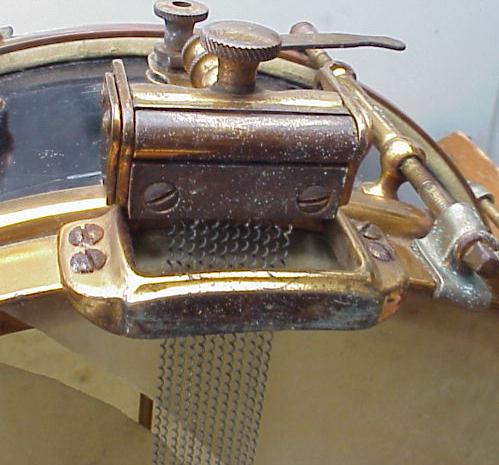 Une ludwig 1941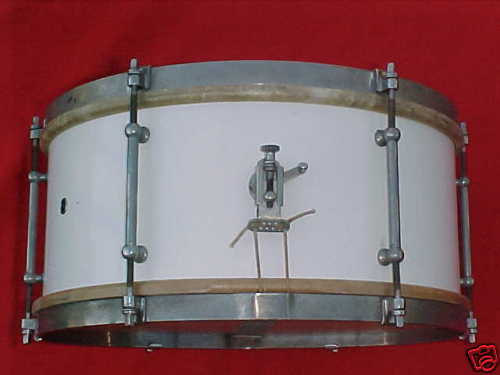 et la fameuse super Swing de 1937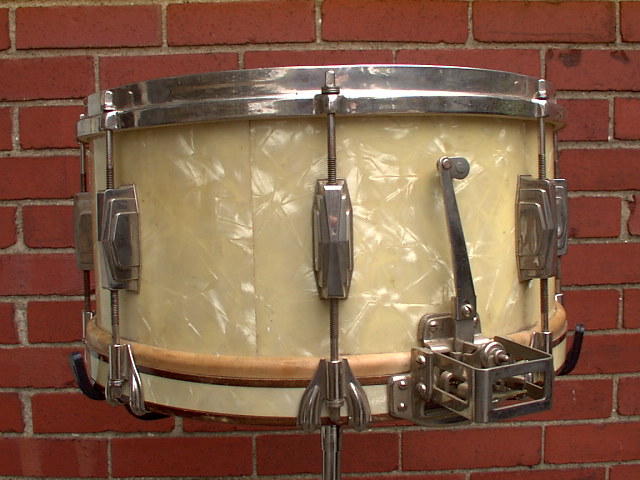 Mais celle-ci possède un cerclage métallique au niveau de la peau de frappe ! Ce qui ne correspond pas avec les modèles du catalogue d'époque !!
Un tom Slingerland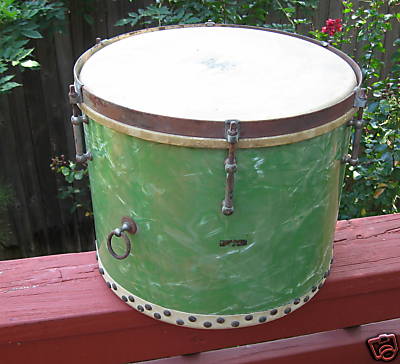 Un tom chinois ludwig ! Tiens ludwig c'est chinois !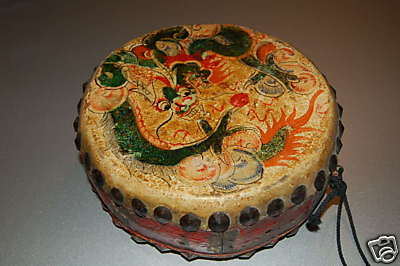 Leedy Broadway 1940
Ludwig année 30 ?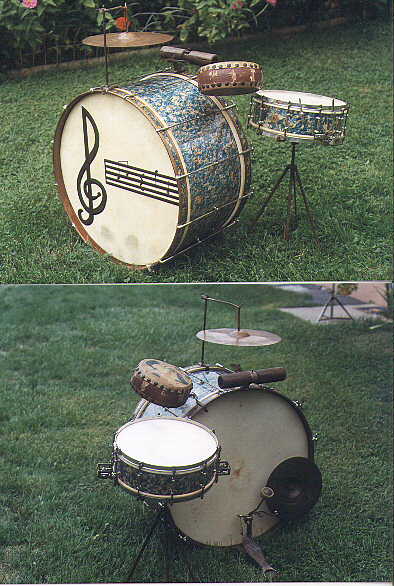 La couverture du catalogue Ludwig de 1938 !
Cette batterie à roulettes fait penser à celle de Chick Webb qui en était également pourvue pour l'aider dans le déplacement de sa batterie à cause de sa nature handicapée... ( Il était nain, bossu avec de grandes jambes, mais un tout petit buste... et de très grandes mains !)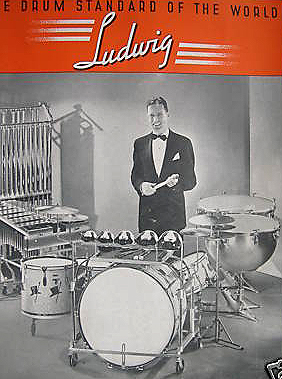 Slingerland " rolling bomber " années 40
Comme pour la Gretsch defender plus bas les parties métaliques sont limitées à 10 % de l'instrument au titre de l'effrort de guere imposé par le gouvernement ! Voir plus bas les infos - in english !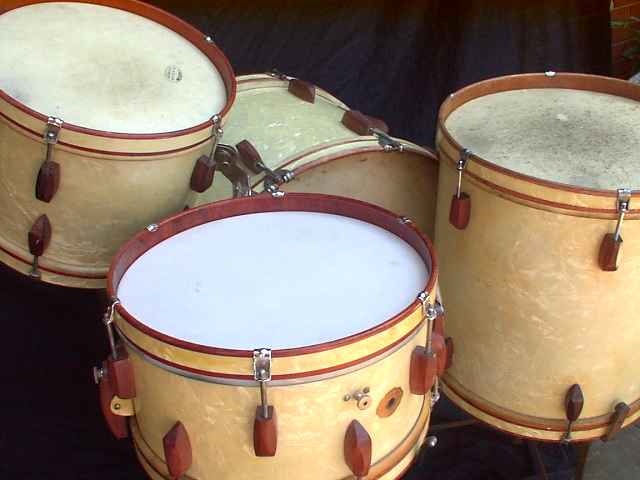 Gretsch Defender -1943
Pour la petite histoire pour participer à l'effort de guerre les batteries fabriquées par Gretsch en 43 n'avaient que 10% de métal.
Les coquilles étaient en bois peint à la couleur métal !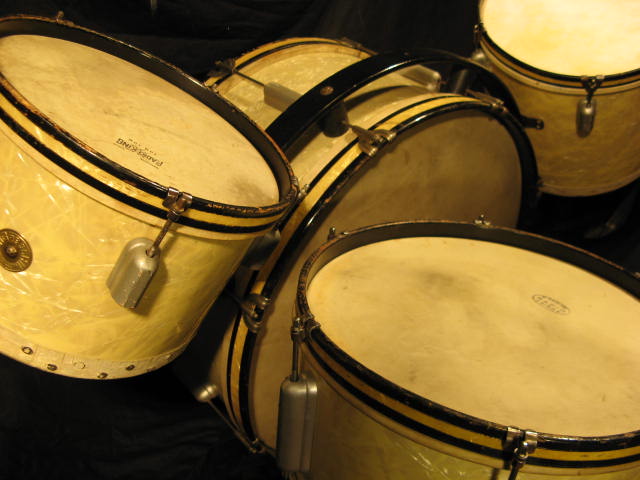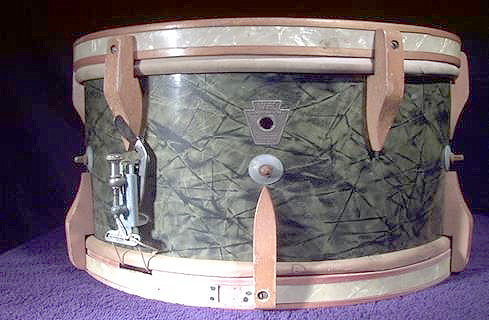 ~DRUMS AND THE WAR EFFORT~

In June 1942, The United States had been at war with Japan (and later, Germany) for over six months. With materials necessary to the war effort becoming scarce, the U.S. Government issued the following order to manufacturers of musical instruments:

General Limitation Order No. L-37

To Restrict the Production of Musical Instruments

"Whereas, the demands of national defense have created a shortage of materials used in the manufacture of musical instruments, action has action has already been taken to conserve the supply and direct the distribution of such materials to insure deliveries for defense and essential civilian requirements; and the present supply of these materials will be insufficient for defense and essential civilian requirements unless the manufacture of musical instruments is curtailed and the use of critical materials for such manufacture thereby reduced."

General Limitation Order L-37, stated that all producers of musical instruments must limit the amount of critical materials (metal) to no more than ten percent of the total weight.

This order prompted drum manufacturers like Slingerland, Gretsch, Ludwig, Leedy, W.F.L. and others to design and build unique instruments comprised of very few metal parts. This resulted in some very unique and beautiful drums….

Slingerland introduced the "Rolling Bomber" drums with rosewood and walnut lugs, strainers, maple hoops, and other parts normally made from metal. Gretsch offered the "Defender" line, with bullet shaped maple lugs and tacked-on heads, while Ludwig & Ludwig produced the beautiful and elegant "Victory" drum sets.

The W.F.L. Drum Company incorporated a unique internal tensioning system (most likely inspired by the Leedy and Strupe "Master Model" drums of the 1930's) constructed mostly of maple. The drums were tuned by turning a series of tension rods from outside the drum. This caused wooden rings to be pushed against the heads for tensioning. These unusual drums were known as the "Victorious" line.

The Leedy Drum Company did their part for the war effort by manufacturing the "Dreadnought" drums. Similar to Ludwig & Ludwig's "Victory" drums, the Leedy "Dreadnoughts" utilized hard wood lugs, trap rail holders and even foot pedals and stands!
Merci à Cooper's vintage drums.com
De très belles batteries d'époque restaurées y sont en vente !!!
Heureusement que le taux de conversion entre le $ et € est favorable sinon autant s'acheter un avion !
http://www.coopersvintagedrums.com
La leedy (war drum !)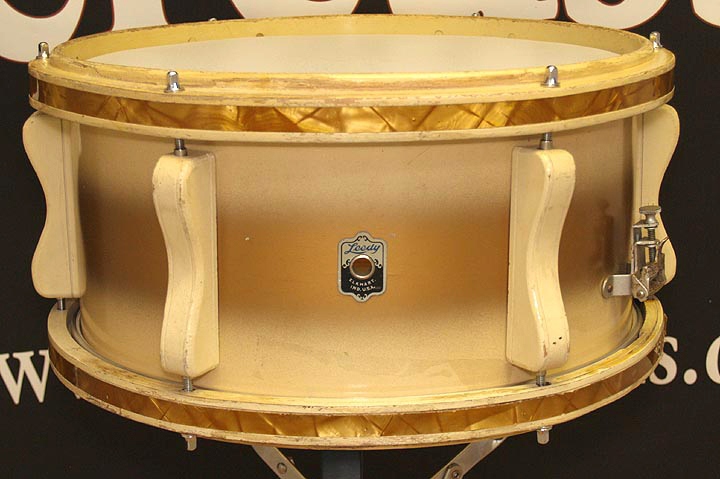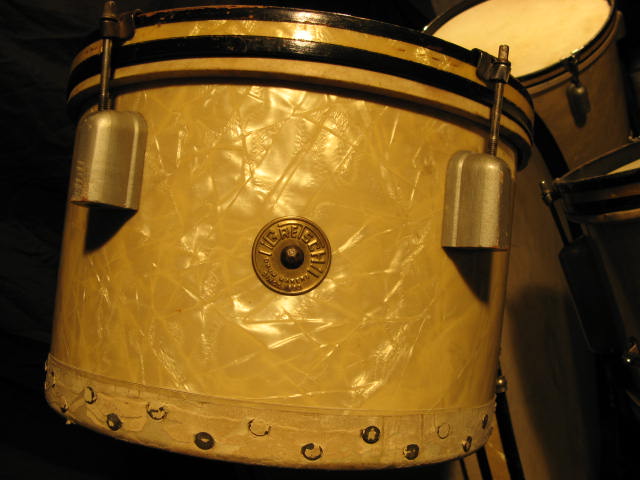 Slingerland Radio King- année ?
SIZE: 9" x 13" tom - 16" x 16" floor tom w/basket stand -14" x 28" bass drum - 7" x 14" snare drum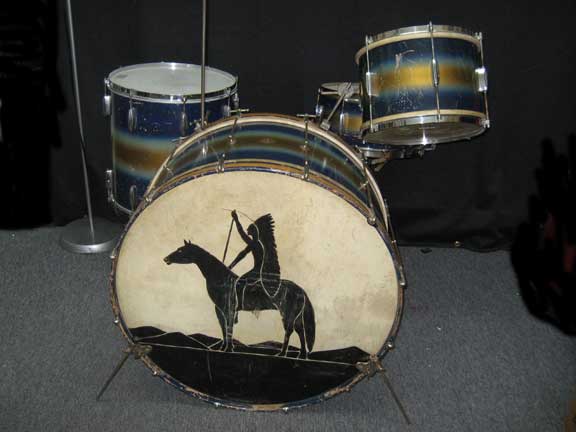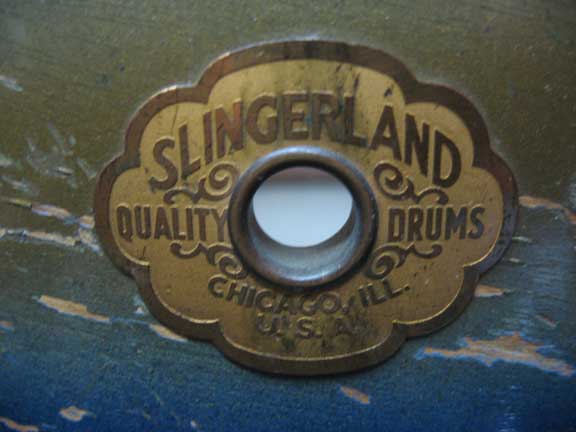 Leedy Standard drum set de 1937 !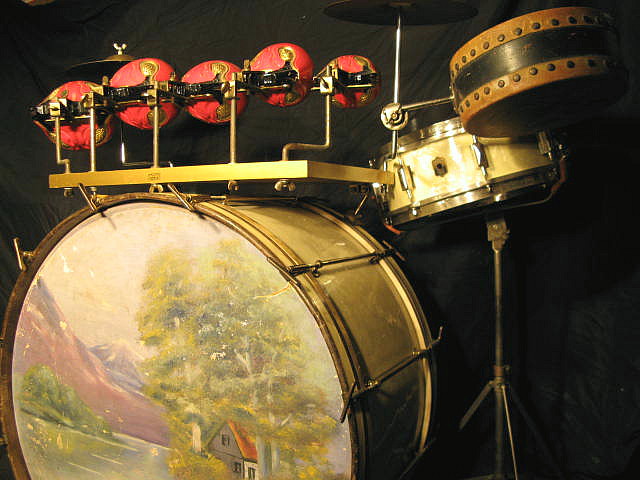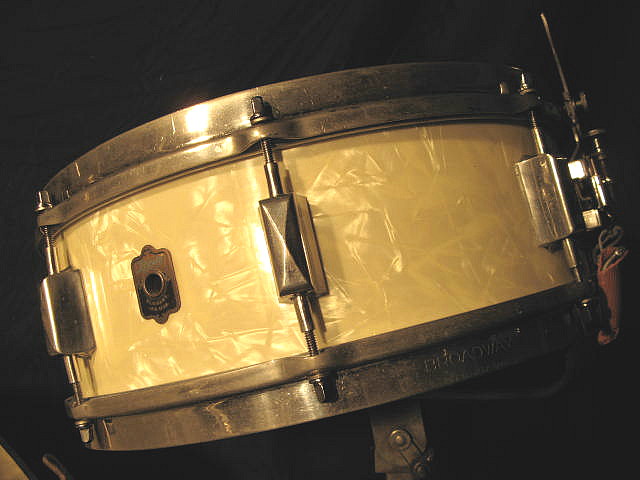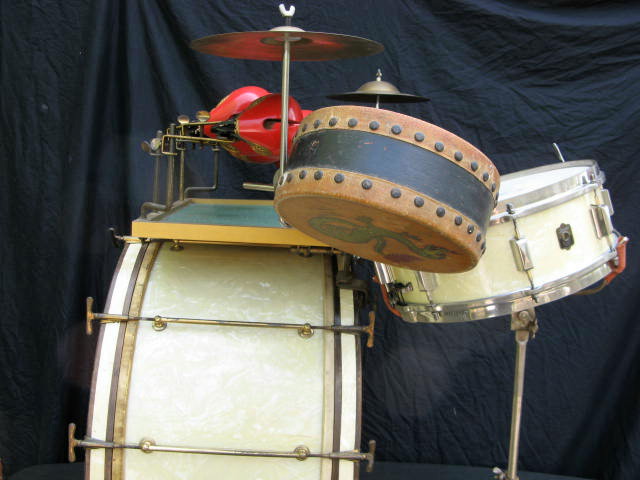 Un set Ludwig complet de 1940 avec les temple blocks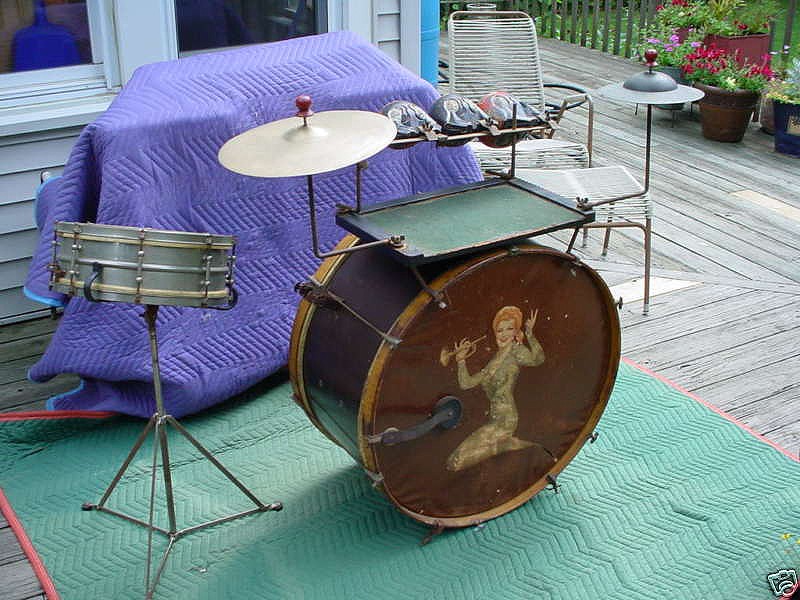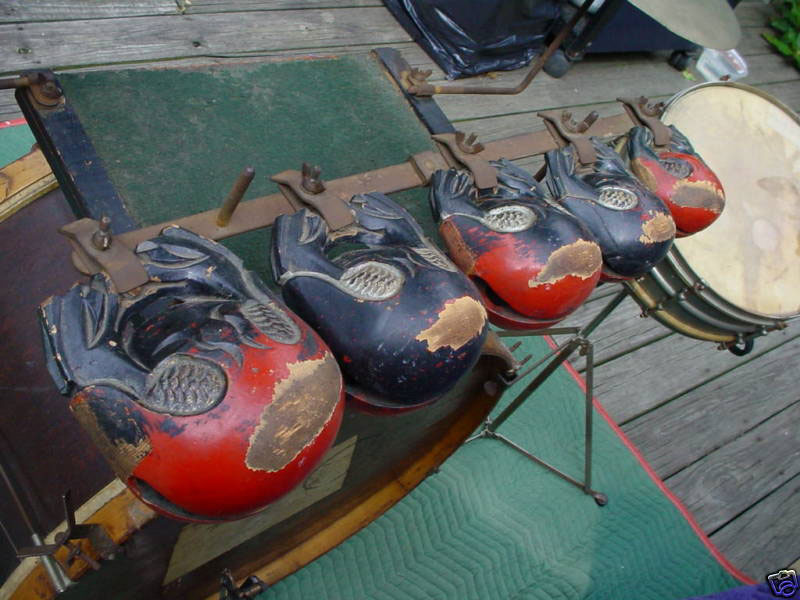 Et la petite histoire qui va avec ...
et là sur cette vieille peau crevée... Peut-être les signatures des meilleurs musiciens, copains du batteur de l'époque.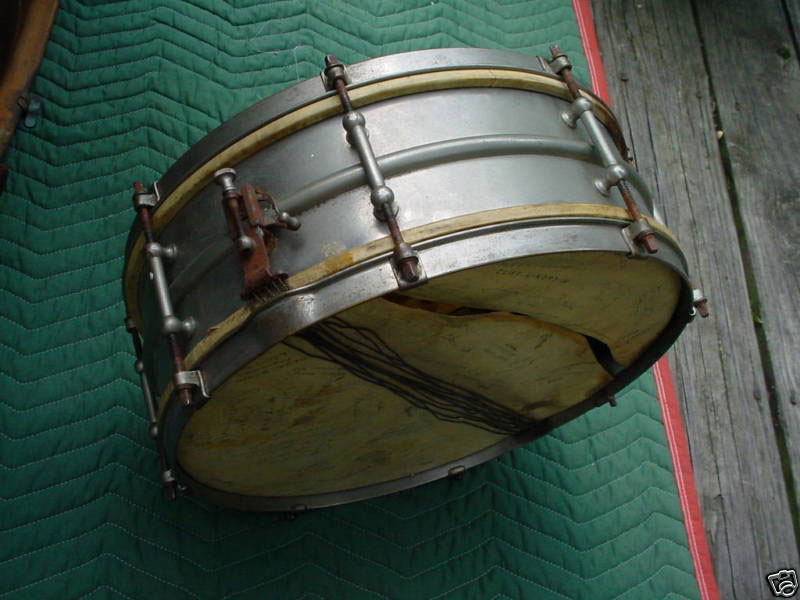 A man named Warren T.Jacobs used to own the set. His name is stamped on the bottom of the snare. This is only a partial list of some autographs I read on the snare. There are quite a few others and some I couldn't be sure of. Grant Kruno Banjo, Doris Montville Piano, Nicholas Hameza?Trumpet, F.A.Lott Trumpet, Bill Sellers Banjo, Harold Post Fiddle, Bill Leist Alto, Sam Duva?Accordian, Ben Hyatt Piano, Bud Page "Caller"
Voici le texte qui était joint à l'annonce !!!
Last quick 3 day auction. I lowered the price on this great set the absolute best I can and hope there's someone to appreciate it.Tons of interest and watchers but nobody pulled the trigger. I hope it finds the right home.And by the way, I have a guy who says he has the little drum for this set but I just can't guarantee it because I haven't seen it.Telephone number available upon request.This is an estate drum set and I am not a drum or musical instrument type person. I will mention what I see and include 12 photos you can enlarge but it's important you ask questions or for additional photos if need be as I probably will either miss or not know something. I beleive it's called the Super-Ludwig De Luxe Drum Set. (see last photo, catologue page found in search) Appears to be missing a small drum attached to bass drum seen in catologue. Other side has a different bracket, don't know what that's for.(maybe that muffler type thing I see in the catologue" Bass drum was painted on both skins. Band covered up on one side and a war time beauty added to the front. She is peeling and bubbling some so if you want to save her she will need restoration and preservation. The only marks found are the WFL (Ludwig) mark on the foot pedal and the Ludwig mark on the snare. The snare looks like nickel plate instead of chrome I think. Tape on top of snare, not sure if torn or for sound. Bottom of snare has tare but is very cool and nostalgic. Lots of autographs or signatures from other musicians. (I'll list some at the end) Small dent edge of one symbol.Tare from the tip of her toe to edge on front of bass.The five wooden percussion things across the top of the bass look and sound very cool. I'm not sure what they are called.A couple sets of sticks found with it and a black bakelite little rectangular percussion block. All metal will need to be cleaned up. Not sure if wood caps over symbols are original, something doesn't look right there but I could be wrong.I found out from the people that a man named Warren T.Jacobs used to own the set. His name is stamped on the bottom of the snare. This is only a partial list of some autographs I read on the snare. There are quite a few others and some I couldn't be sure of. Grant Kruno Banjo, Doris Montville Piano, Nicholas Hameza?Trumpet, F.A.Lott Trumpet, Bill Sellers Banjo, Harold Post Fiddle, Bill Leist Alto, Sam Duva?Accordian, Ben Hyatt Piano, Bud Page "Caller". Many more.The vast majority of the autographs are dated 1946 but I do not know if the set was new then.Probably older because it also says "retucked" near the edge in 1946 and the foot pedal shows some ware in the middle.



Leedy 1935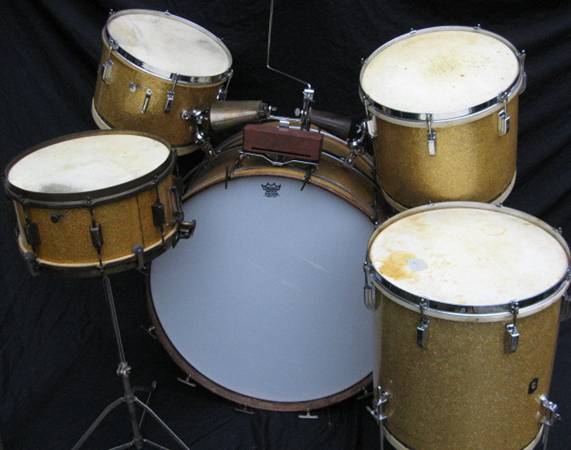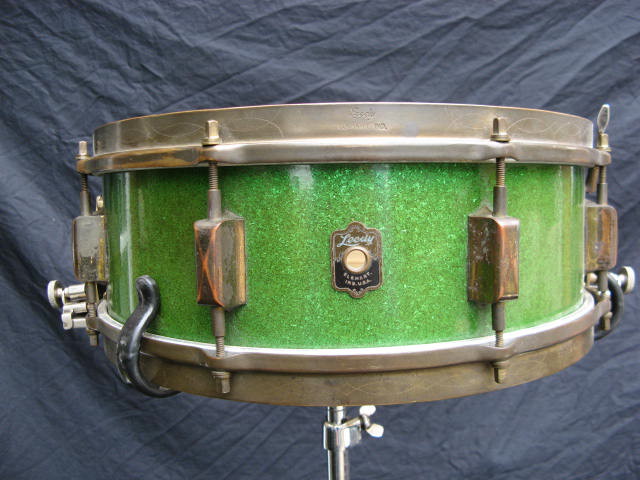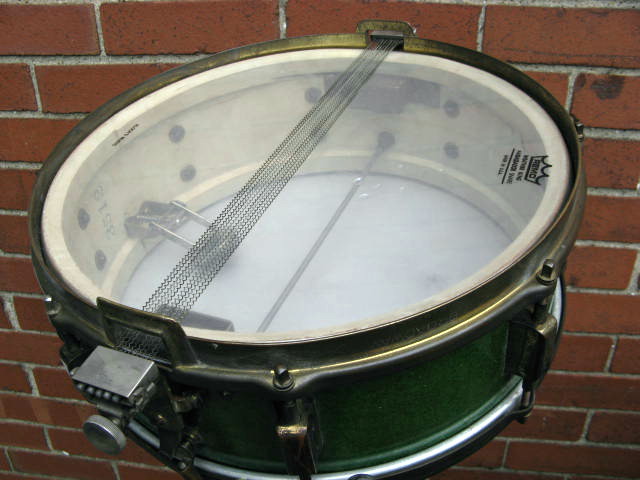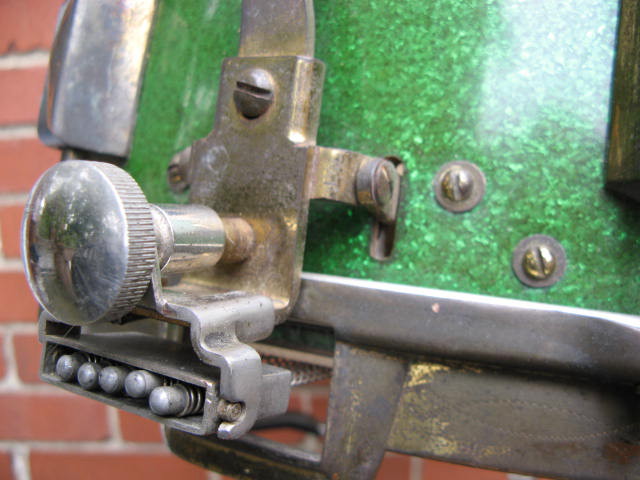 Ludwig autour de 1930
Ludwig 1940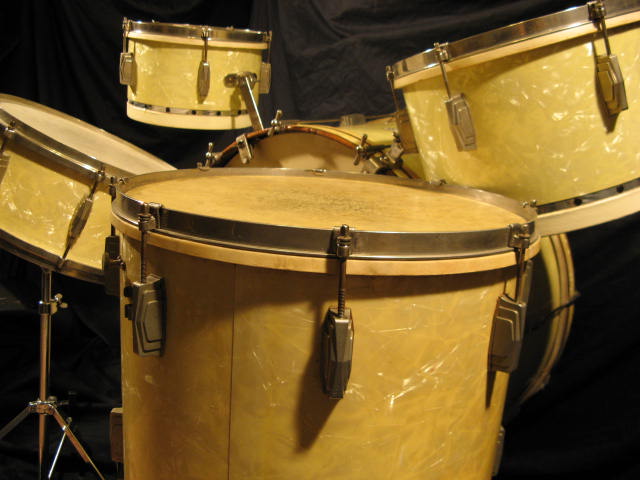 Slingerland 1943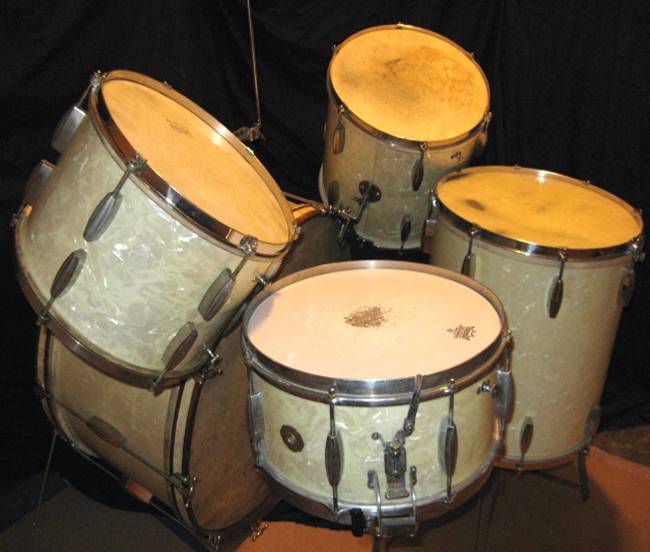 Slingerland 1928
La légende dit que Slingerland, fabriquant de banjos se serait lancé dans la fabrication de batterie dés lors que Ludwig en 1928, s'est également lancé dans la fabrication de banjos ! La concurrence à du bon !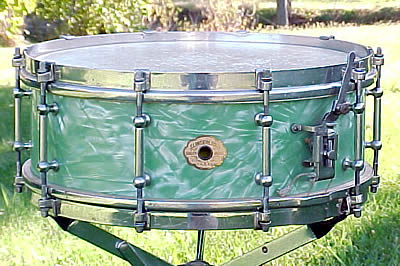 Slingerland modèle 138 - années 30



Un pli !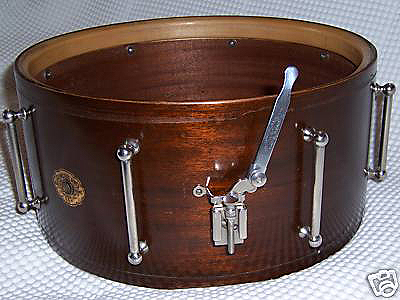 Une Gosse caisse de 24 (sans marque) qui fait coffre pour ranger sa caisse claire !
Drum set Ludwig de 1928...
Cet ensemble s'est vendu 2550 US $ sur ebay le 18 juillet 2008 !!!!!
[/u

1928 Ludwig & Ludwig "LUDWIGOLD" Drum Outfit.
Pages out of the 1928 Ludwig & Ludwig Chicago catalog from 1928.

14" deep x 28" wide ( actually 27-1/2" ) Seperate tension Orchestra Bass Drum ( Ludwig part no.# 105 CL) Factory original front painted head ( matches catalog!)

5" deep x 14" wide ( fits REMO Heads! ) Super Ludwig snare drum with ten tube lugs and Deluxe parallel snare mechanism ( Ludwig part # 231-CL ).

Ludwig gold-colored snare drum stand

Ludwig original 1909 bass drum pedal w/ Fluffy wool beater & cymbal striker

Ludwig gold-colored bass drum hoop mounted cymbal holder w/ 11" cymbal

Ludwig gold-colored L-arm cymbal holder w/ DUPLEX Cup assembly

Italian made 11" hand-hammered brass cymbal

Ludwig gold-colored L-arm cymbal holder w/DUPLEX Cup assembly

Italian made 13" hand-hammered brass cymbal

Ludwig 10" genuine Chinese tom-tom w/Holder

Ludwig 6" Korean red painted temple block and holder

Ludwig bass drum clamp-on spurs

As you can see from my pictures, this drum set is a fabulous discovery, and is surprisingly well preserved. The set has been stored by it's original owner for many years where he retired to California, and it has only recently seen the light of day. The bass drum is equipped with an internal two-lightbulb assembly, to help regulate the calf heads, and since they blink, the lights really light up the cool factory painted front head. The bass drum hs two udwig "StipelGold" badges, and it is showing quite a bit of wear. The shell is solid, not cracked, and both calf heads are still useable.

The 5x14" Super-Ludwig snare drum is the older heavy 2-piece brass model, with ten tube lugs, and a fully functional Ludwig parallel snare mechanism. The snare wires are individually adjustable, and are made out of gut. Both heads on the snare drum, had to be replaced. Newer REMO heads were easily fitted to this shell.

Both drums have imitation gold hardware, it is the same type of plating used on the famous Ludwig "Black-Beauty" snare drums.

Some of the hadrware pieces were finished by the Ludwig factory in a gold-leaf color to complement the rest of the outfit. Some of the hardware items are finished in factory original nickel plate. Only the pieces that have been indicated as being gold colored, are that way.

This is such a cool kit, and it is fully functional and is extremely playable!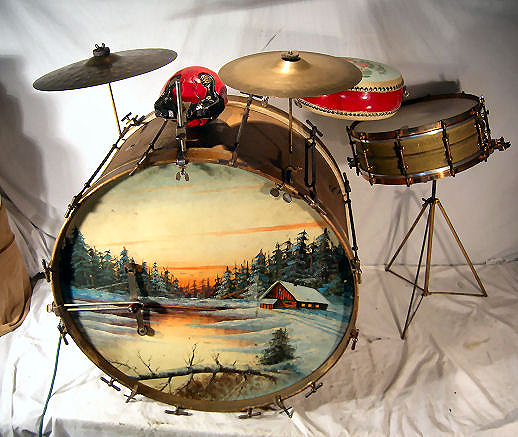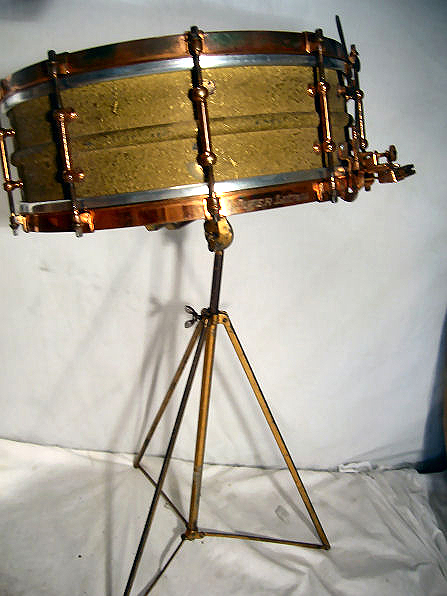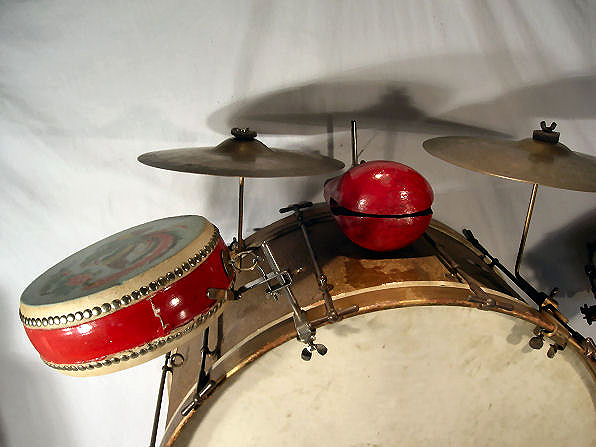 Et le catalogue Ludwig de 1928 !